Like to learn about computer and network security or to find vulnerabilities in your network or are you searching for best operating systems for ethical hacking and pen testing or like to know which is the favourite operating system of hackers? — then stop! Here is the list of most widely using infamous ethical hacking operating systems or we can say digital forensic tools.
Almost all the best ethical hacking operating systems for security experts are based on Linux kernel, so favorite operating systems of all types of hackers are always Linux — though security-focused operating system is a security analyst's best friend. But also keep in mind that, simply having these operating system doesn't make anyone a security expert or hacker — you should also learn some essential programming languages to enrich your knowledge in this field.
Note : Only For Educational Purposes
Listed operating systems are for educational purposes only. Do not try to use it if it's not legal in your country. And also not use them to harm anybody or to gain unauthorized access to any account you do not own. Use this software only for analyzing your own security. I do not take any responsibility for anything you do using this application. Use at your own risk.
Favourite Operating Systems of hackers :
---
So check out 10 best Linux hacking os using for pen testing and other security measures.

1. Kali Linux
Kali Linux maintained and funded by Offensive Security Ltd. is one of the well-known and favorite ethical hacking operating systems used by hackers and security professionals. Kali is a Debian-derived Linux distribution designed Real hackersor digital forensics and penetration testing. It was developed by Mati Aharoni and Devon Kearns of Offensive Security through the rewrite of BackTrack, their previous forensics Linux distribution based on Ubuntu.
Apart from desktop support, Kali Linux also has a dedicated project set-aside for compatibility and porting to specific Android devices, called Kali Linux NetHunter. When comes to security tools, this top ethical hacking operating system is equipped with 600+ preinstalled pen testing tools and they are frequently updated and are offered for different platforms like ARM and VMware. Now Kali Linux is based on a rolling release model.
2. BackBox
BackBox is an Ubuntu-based penetration testing Linux distribution. It provides penetration test and security assessment oriented providing a network and informatic systems analysis toolkit along with a complete set of other tools required for ethical hacking and security testing.
It includes some of the most used security and analysis Linux tools to help out security experts from stress tests to sniffing including vulnerability assessment, computer forensic analysis and exploitation.
3. Parrot Security OS
Parrot Security OS (or ParrotSec) is a GNU/LINUX distribution based on Debian. This Linux distribution for hackers is built in order to perform penetration testing, vulnerability assessment and mitigation, computer forensics and anonymous surfing. It has been developed by Frozenbox's Team.
Parrot is cloud-friendly Linux distribution and unlike other ethical hacking operating systems, Parrot OS is a lightweight Linux distro —  runs over machines which have minimum 265Mb of RAM and it is suitable for both 32bit (i386) and 64bit (amd64), with a special edition it works on old 32bit machines (486).
4. Live Hacking OS
Live Hacking OS is a Linux distribution packed with tools and utilities for ethical hacking, penetration testing and countermeasure verification. It includes the graphical user interface GNOME inbuilt. There is a second variation available which has command line only, and it requires very less hardware requirements.
5. DEFT Linux
DEFT stands for Digital Evidence and Forensic Toolkit and it's an open source distribution of Linux built around the DART (Digital Advanced Response Toolkit) software and based on the Ubuntu operating system. It has been designed from the ground up to offer some of the best open source computer forensics and incident response tools that can be used by individuals, IT auditors, investigators, military, and police.




6. Samurai Web Testing Framework
The Samurai Web Testing Framework is a live Linux environment that has been pre-configured to function as a web pen-testing environment. The CD contains the best of the open source and free tools that focus on testing and attacking websites. In developing this environment, we have based our tool selection on the tools we use in our security practice. We have included the tools used in all four steps of a web pen-test.
7. Network Security Toolkit
The Network Security Toolkit (NST) is a Linux-based Live CD that provides a set of open source computer security and networking tools to perform routine security and networking diagnostic and monitoring tasks. The distribution can be used as a network security analysis, validation and monitoring tool on servers hosting virtual machines. The majority of tools published in the article "Top 125 security tools" by Insecure.org are available in the toolkit.
8. Bugtraq-II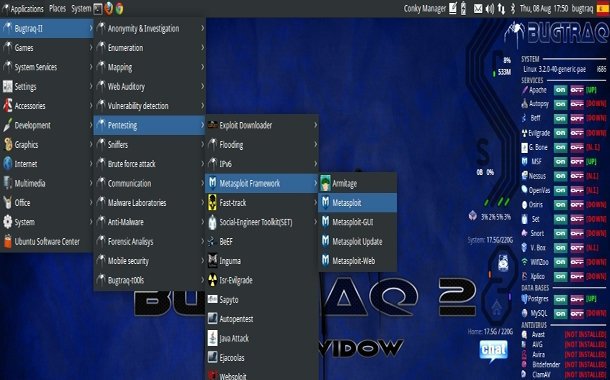 Bugtraq-II is a GNU/Linux distribution focused on digital forensics, penetration testing, malware laboratories, and GSM forensics. Bugtraq-II is available in 11 languages with more than 500 ethical security hacking tools installed and configured. Depending on your desktop environment, the features vary. The minimum requirements are based on XFCE and KDE, this ethical hacking os need 1GHz x86 processor & 512 MB of system memory 15 GB of disk space for installation.
9. NodeZero
NodeZero is an open source Linux kernel-based ethical hacking operating system derived from Ubuntu and designed to be used for penetration testing operations. Besides the fact that it allows you to start the live system, the boot menu contains various advanced options, such as the ability to perform a system memory diagnostic test, boot from a local drive, start the installer directly, as well as to boot in safe graphics mode, text mode or debug mode.
With NodeZero you will have instant access to over 300 penetration testing tools, as well as a set of basic services that are needed in penetration testing operations.




10. Pentoo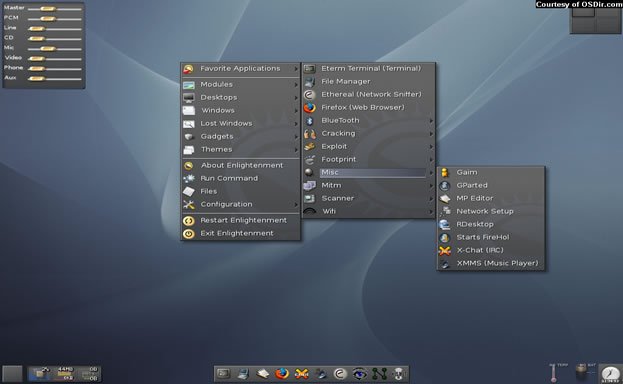 Pentoo is a Live CD and Live USB designed for penetration testing and security assessment. Based on Gentoo Linux, Pentoo is provided both as 32 and 64 bit installable livecd. Pentoo is also available as an overlay for an existing Gentoo installation. The Pentoo kernel includes grsecurity and PAX hardening and extra patches – with binaries compiled from a hardened toolchain with the latest nightly versions of some tools available.